With the print series Los Desastres de la Guerra, Francisco Goya represented cynically the hard and sad reality of the Independence War in Spain. The print suite is a real documentation of the disasters perpetrated by war through art. It is made up of 80 plates, preciously and beautifully etched. This work was not published for long time, not until 1863, almost twenty years after the artist's death, even though he realized it in 1810. The years 1811 and 1812 were called "The Hunger Years", because months of despair followed the injustices of war. Thus, Goya represented despair, the sacred and the profane, life and death, beauty and ugliness. His artworks became symbols of human stupidity and madness.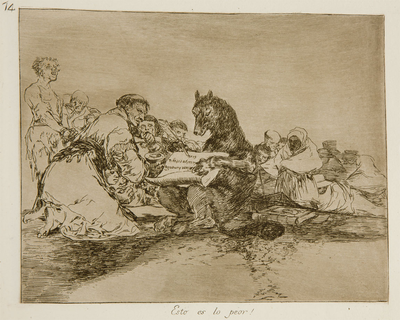 The etchings of Los Desastres de la Guerra were realized by Francisco Goya during the Spanish revolution against the Napoleon's occupation. He depicted the sentiment and spirit of the time he was living in with his poetic work. He looked beyond appearance and became one the most acclaimed artists of the European courts of the time, thanks to his originality.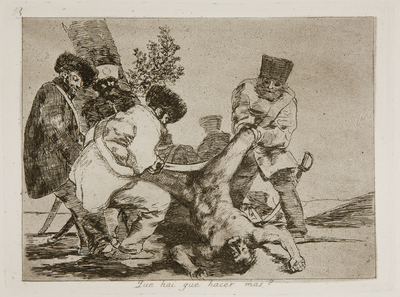 The intriguing impressions that compose the collection are realized with a variety of techniques: mainly etching for the lines and aquatint for the chiaroscuro tones, but also dry point. The series is usually divided into three groups, in the order in which the individual engravings were made: the first 47 plates focus on incidents that occurred during the war and on the consequences of the conflict on individual soldiers or civilians; the second group (engravings 48 - 64) focuses on the effects of the famine in Madrid between 1811 and 1812, before the city got rid of the French occupation; the last 17 engravings show the liberals' great dissatisfaction with the restoration of the Bourbon monarchy at the end of the conflict.
Read also about Francisco Goya's other print series Los Caprichos, click here!