Only one day left to the awaited first edition of GemellArte, an international festival sponsored by Wallector, dedicated to the celebration of the existing twinnings among Italian and foreign cities through parallel exhibitions and events. This year, the event will take place from 17 to 19 May 2019 in the city of Terni, ready to host free events to pay homage to the twinning with the French city of Saint Ouen.
Since 1962, the purpose of the initiative has been to add value to the twinning between the two cities by sharing each one's cultural heritage and emerging talents with the other. In a historical period when the relations among human beings seem more and more difficult, GemellArte aims at establishing a connection that could trespass on any type of frontier by means of the artistic language and foster the sharing and knowledge of all artistic and cultural traditions.
The pulsating heart of the entire project is in two artist residences: one at the seats of the Caos-Centro art opificio Siri in Terni, another at the Galerie Mariton in Saint Ouen. After a call with the talents from the respective territories in the categories of painting, sculpture, photography, street art, video, installation, and performance, the selected artists for this year are Andrea Abbatangelo and Camille Beauplan. For a few months, the two artists have been working on their artworks in situ, interacting with the territory and its inhabitants, so that the created art pieces will stay in the city that welcomed the artists even after the end of the event.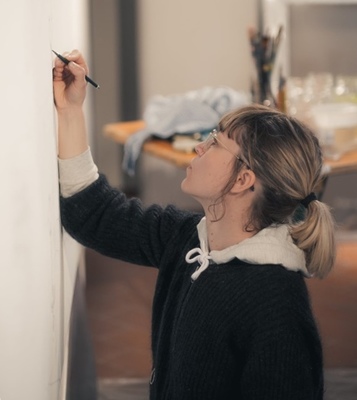 "Art has always joined and allowed us to look beyond. Culture has this great gift. Dusting off the activity of the twinning with some art is an opportunity for both art and the city": with these words Chiara Ronchini, founder of the gallery Crac in Terni and curator of the selection of the Italian candidate, enthusiastically speaks of this stimulating project.
Yet, GemellArte, in spite of its name, will not be only about art. In the two cities, many will be the events dedicated to a large public: director's films, menus, tastings, furniture and fabric expositions, labs for children, and much more.
The special guest will be Ascanio Celestini, who chose this event to present his last book Barzellette, with stories about France and Italy, in collaboration with the literary critic Filippo La Porta. For the night owls among the public, the stage of Terni will host the afro-folk-blues mix of the French duo Baton Bleu.
Such an interesting initiative only lasts one weekend? Wrong: in the following days, the event continues with many other projects, like the exposition dedicated to French cinema, in collaboration with the Institut Français and the French Embassy in Italy.
Wallector wishes good luck to this initiative and a great success to its first edition, with the hope that it will engage in the next years many other European countries.